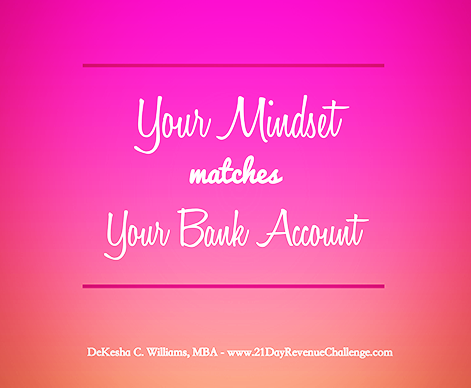 In my most recent conversations with clients, colleagues and social media tribe member, I've realized that you have to be ready to make money. You have to be physical, mentally and spiritually ready to earn money.
The theme this month is around getting ready and being ready, and we talk about what are you feeding yourself, how do you prepare during the 21 Day Revenue Challenge and how to deliver upon completion.
The lesson that I learned recently about mindset.
I can remember that there was a time when I thought mindset training was a joke. I used to fast forward the training just to get to the meat and potatoes or what I call the substance. I mean it drove me crazy, maybe because in "THAT MOMENT" I had my game face on and ready for whatever was in front of me. But I quickly realized that every day is not like that, and there are times where you just don't feel in the mood to sell or coach. Trust me; I already know that I'm not alone.
Quick story – A few weeks ago I attended one of the largest African American networking events and supporting clients, hoping to meet new people as well. After two days I realized that I hadn't sold anything, and I'm accustomed to being the top sales performer. What seemed strange was that I wasn't in the mood to have sales conversations, and I can't explain to you why. I just didn't want to, crazy right?
So I went to bed that night totally confused as to why I felt that way. The next morning I woke up and said: "Today is a new day, and it's GAME TIME!" I told myself that I'm going to provide a solution to someone's problem today, and I marched on over to the conference for day 3. Within two hours of arriving at the conference, I found myself in conversation with someone who had a problem that I could solve. I was closing my first deal that day in less than 30 minutes of fact finding with the client. It was at that moment that I proved myself wrong that mindset is not a joke and plays a huge role in your daily outcome.
I share this testimonial with you so that you too can know how important it is to remove self-doubt and negative thoughts from your daily routine.
A few quick strategies that I've used to alter my thought process:
1. Audiobooks – You can never listen to enough information material whether it's motivational or personal development. Continue to feed the mind, and the mind will continue to feed you.
2.Thought Leaders – What about experts in your field that can guide you through your transformation. We all can't be the smartest one in the group, right?
3. Implementation – This is critical if you want to see actual change in your future. Once you've set out the plan, then you have to implement the action steps.
Trust me when I say that you can't go wrong by adding these simple strategies into your daily routine.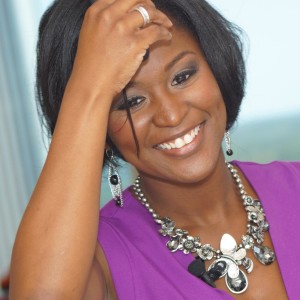 © 2016 by DeKesha C. Williams. All Rights Reserved. DeKesha C. Williams, MBA, Business Strategist and Leadership Development Trainer, is the founder of the VizionsEnterprises.com, The LaunchandLearn Radio Show and American Express Open Forum Business Advisor, focuses on the growth of small businesses. We help small business owners who struggle with generating leads and prospects to create an automated profit producing machines so that they can make more money with less effort. Join us for the 21 Day Revenue Challenge to eliminate the leaks in your profit buckets and stop leaving revenue on the table. Register here.